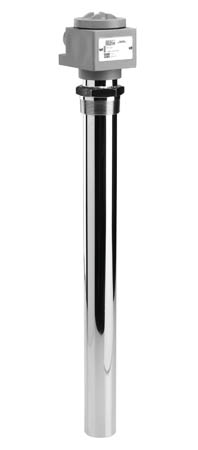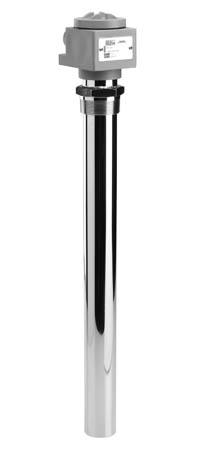 Screw Plug Heaters are constructed by brazing or welding elements into a hex pipe thread. These are intended for direct immersion into fluids and gases. The heater is to be installed via a threaded port in the tank or vessel. Screw plug heaters are available in a variety of pipe thread sizes and materials. The heating elements are offered in a number of materials suited to a variety of fluid heating applications. Terminal housings are available for indoor, outdoor (weatherproof NEMA 4) and hazardous (NEMA 7) environments. Many options are available including thermostats, high limit and process thermocouples or RTD sensors. Since we are a made to order company, we can offer a large selection of sizes and configurations which are not listed below. Please contact us for assistance with your application.
ProTherm screw plug heaters are medium capacity heating elements designed to heat liquids, viscous fluids, forced air and gases. They are designed to screw into tanks, pipes and other vessels. Our screw plug heaters are engineered to be immersed directly into the gas or liquid being heated; since these heaters come into direct contact with the gas or liquid, heat up times are very fast.
Screw plug immersion heaters manufactured at ProTherm consist of a single, or a set of tubular elements, that are formed into a hairpin shape and welded onto a screw plug. The sheath material of the heating element can be steel, copper, stainless steel or Incoloy.
The standard screw plug sizes utilized are 1", 1 1/4, 2" and 2 1/2" and are made of steel, brass or stainless steel, depending on the application. Various types of electrical protective enclosures, built-in thermostats, thermocouples and high-limit switches can be incorporated into screw plug immersion heaters.
Immersion heaters may be used to to heat up flammable liquids or gases in industrial applications. Contact us to inquire about our explosion proof housing units.
Standard Screw Plug Heater Sizes & Materials
NPT Sizes
British Sizes
Materials
1″, 1 1/4″, 1 1/2″, 2″, 2 1/2″
1″, 1 1/4″, 1 1/2″, 2″, 2 1/2″
Brass, Steel, Stainless Steel
Common Sheath Materials For Screw Plug Heaters

Copper
Steel
Stainless Steel
Incoloy 800®
Inconel 600®
Potable Water
Fuel Oils, Hydraulic Oils
De-Ionized, R-O, Process Water, Mild Acids
Water, Mild Alkaline Solutions, Air and Gases
Water, Very Alkaline Solutions, High Temperature Air and Gases
Built in Thermostat Options
Power Ratings
Up to 240 volts, 25-amp single pole, single throw (SPST)
Up to 240 volts, 25-amp double pole, single throw (DPST)
Up to 600 volts, 15-amp triple pole, single throw (TPST)
Temperature Ratings
0 – 100° F
50 – 250° F
160 – 540° F
320 – 700° F
Built In Sensor Options
Sensors
"K" calibration thermocouple for high limit sheath protection and fluid sensing and temperature control.
"J" calibration thermocouple for high limit sheath protection and fluid sensing and temperature control.
100 Ohm RTD Sesnor for fluid sensing and temperature control.
Screw Plug Heater Terminal Housings and Constructions
1″ NPT Screw Plug Immersion Heaters

General Purpose
No Thermostat

General Purpose
Built In Thermostat

NEMA 4 & NEMA 7
No Thermostat

NEMA 4 & NEMA 7
Built In Thermostat SPST
1 1/4″ NPT Screw Plug Immersion Heaters

General Purpose Housings
No Thermostat
Single Element Design

General Purpose Housings
Built In Thermostat
Dual Element Design

NEMA 4/NEMA 7 Housings
No Thermostat

NEMA 4/NEMA 7 Housings
Built In Thermostat SPST
2″ Screw Plug Immersion Heaters (2 Elements, Single Phase)

General Purpose Housings
No Thermostat

General Purpose Housings
Built In Thermostat

NEMA 4 & NEMA 7 Housings
No Thermostat

NEMA 4 & NEMA 7 Housings
Built In Thermostat SPST
2″ Screw Plug Immersion Heaters (3 Elements, Single or Three Phase)

General Purpose Housings
No Thermostat

General Purpose Housings
No Thermostat

NEMA 4 & NEMA 7 Housings
No Thermostat

NEMA 4 & NEMA 7 Housings
Built In Thermostat SPST
2 1/2″ Screw Plug Immersion Heaters (3 Elements, Single or Three Phase)

General Purpose Housings
No Thermostat

General Purpose Housings
Built In Thermostat

NEMA 4 & NEMA 7 Housings
No Thermostat

NEMA 4 & NEMA 7 Housings
Built In Thermostat SPST

NEMA 4 & NEMA 7 Housings
Built In Thermostat 480/600 VAC TPST