Your source for industrial heating elements for large tanks and boilers.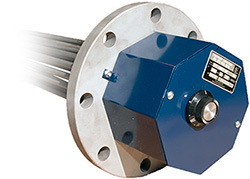 TankHeaters.com, a division of ProTherm Industries, provides a large selection of electric heating elements for tank and vessel heating. Our tank heaters are for maintaining fluids in any size, industrial storage tanks, and provide freeze protection when storing fluids in cold environments.
Due to a large variation in heating applications, we offer a wide range of heating technologies including; flange heaters, screw plug heaters, heat trace systems and over the side heaters. Our engineers can assist you when calculating a heating solution for your large tanks and vessels.
Typical applications for tank heating
Freeze protection of low and medium viscosity fluids such as water & ammonia
Temperature maintenance for medium viscosity fluids like oils & resins
Crystallization prevention of compounds like caustic soda
Condensation prevention of fly ash in conical bases of silos
Specialty applications that heat high viscosity fluids and agitation applications
Let us design your tank heater
Our engineers can assist you with designing an element, or working from your drawings, and building an electric heating element for your application. We can heat water, oils and just about any liquid.
We are capable of building flange heaters, screw plug heaters and over the side heaters. If it needs to be heated, we have a solution.
Contact us today to see what we can do for you.