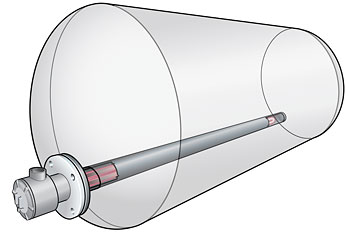 Pipe insert heaters are immersion heating elements designed to fit into a schedule 80 pipe and are designed for screw plug or flanged mountings. The most common sizes are the 2 in NPT steel screw plugs and the 3 in 150 lb flanges. Other sizes and alloys are available.
ProTherm pipe insert heaters are ideal for applications where you are avoiding direct contact of the liquid with the heating element; or in large storage tanks where draining the tank, in the event a heating element needs replacing, is difficult. Pipe insert heaters give you the perfect optionfor these situations. These heaters require the installation of separate pipes inside a tank.
While maintaining 100% energy efficiency, the radiation and conduction from the element to the inner pipe wall gently transfers the heat to your liquid. This is an ideal method for heating viscous or corrosive products.
All pipe insert immersion heaters have (NEMA 4) weather proof terminal boxes.
When more than one heater is needed, mount the pipes in parallel rows to avoid liquid overheating. Low liquid protection is available by including an optional type K thermocouple built into one of the heaters.
Standard Flange Sizes & Materials
ANSI Flange Size
ANSI Flange Rating
Materials
2″ – 24″ (Standard is 3″-150 lb)
150 lb, 300 lb, 600 lb
Carbon Steel, Stainless Steel, Titanium
Standard Plug Sizes & Materials
NPT Sizes
British Sizes
Materials
1″,  1 1/4″, 1 1/2″, 2″, 2 1/2″
1″,  1 1/4″, 1 1/2″, 2″, 2 1/2″
Brass, Steel, Stainless Steel
Pipe Insert Heater Sheath Materials
Incoloy 800®
Incoloy 800 is used for all pipe insert heating applications.
Maximum sheath temperature 1400ºF
WATT DENSITY Watt.in² 10 – 30
Therminal Housings
NEMA 1 Sheet Metal Housing (Indoor use only)
NEMA 4 (Standard) Moisture Resistant Terminal Housing
NEMA 4X Epoxy Painted or Stainless Steel Moisture Resistant Terminal Housing
NEMA 7 Hazardous Location Terminal Housing
Built In Thermostat Options
Power Ratings
Up to 240 volts, 25-amp double pole, single throw (DPST)
Up to 600 volts, 15-amp triple pole, single throw (TPST)
| | |
| --- | --- |
| Temperature Ratings | 320 – 700° F |
| | |
| --- | --- |
| Thermostat Application | Since the thermostat will be located inside the pipe, it will be measuring the internal pipe temperature.  The thermostat is intended for high limit purposes and is not suitable for process control. |
Built In Thermocouple Options
| | |
| --- | --- |
| Sensors | "K" calibration thermocouple for high limit sheath protection. Since the thermocouple will be located inside the pipe, it will be measuring the internal pipe temperature.  The thermostat is intended for high limit purposes and is not suitable for process control. |
Screw Plug and Flanged Assemblies Complete with Pipe
| | |
| --- | --- |
| Complete Pipe Assemblies | Screw Plug and Flanged assemblies are available complete with a pipe when installation of a pipe into the tank is not feasible or desirable.  The pipe wells are 2″ or 2 1/2″ NPT schedule 40 carbon steel in the standard design. Stainless steel pipes and connection fittings are available for chemical corrosion or for immersion into food products. |